Welcome To GMU
Established in 1996 in Lausanne, GMU (Groupe Musulman Universitaire) – aka MSA (Muslim Student Association) is an independent group inside the campus of UNIL & EPFL.
Our main goals
Gathering Muslims inside the campus
Promote exchange, mutual aid and brotherhood
Facilitate the practice of spirituality along the academic life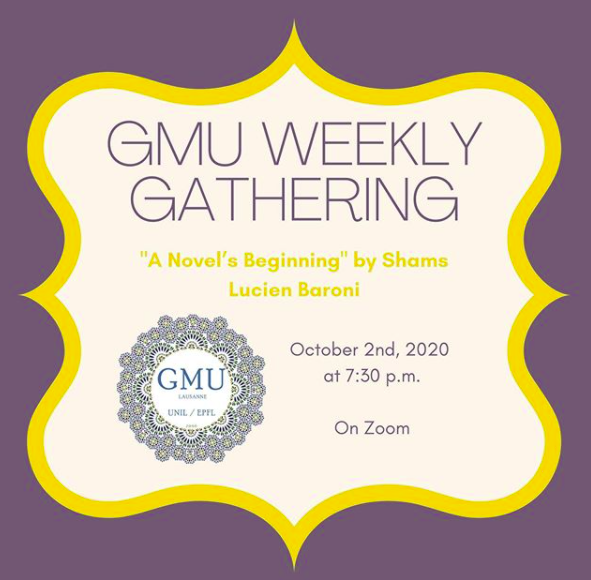 Weekly Gathering
    Friday, 2nd of Ocotber, on Zoom at 7:30 p.m.
We are pleased to invite you to our traditional Friday gathering.

Where: On zoom (link in the mail)
When: 02.10.2020 at 19h30 (after maghrib prayer)
Subject: "A Novel's Beginning" By Shams Lucien Baroni. He will present the workings of a narrative text's first lines. Then we will reflect on a few beginnings.

After the presentation, we will have a networking time on gather town if you would like to chat with people 🙂
WELCOME CEREMONY
Friday, 25th of September, on Zoom at 7 pm
We hope you are all doing well, and are motivated to start off this new semester 🙂
You are all invited to the GMU's first weekly gathering of this semester, which will take place virtually on Zoom.
The program will be as follows:
– Welcome the newcomers and introduction
– A recap of last semester's activities
– Presentation of the events for this semester
– Open Feedback and Discussion
Feel free to share this invitation with your friends! We hope to see you all this Friday!!
Join Us !
Want to join us ? Please subscribe to our mailing list in order to stay informed about our forthcoming activities.