Assalamu 'alaykum everyone. I would like to make a series of a whole iftar suggestion. Here you will find, each time, a recipe for a drink, soup, main dish, and side dish. It's various and complete. Hope that you will enjoy it and try it 😉
Inroduction
About this Recipe
By: Chaïmae
I'm suggesting simple versions of some cultural recipes. Please do not feel offended if it doesn't correspond to a traditional cooking way that you know. Those series are only about sharing ideas. Don't forget to break your fast with 1 or 3 dates.In this first article, you will find:
Drink- avocado milkshake
Soup– Algerian Chorba (vegetarian version) 
Main dish– mujaddara, from Lebanon
Side dish– spinach spring rolls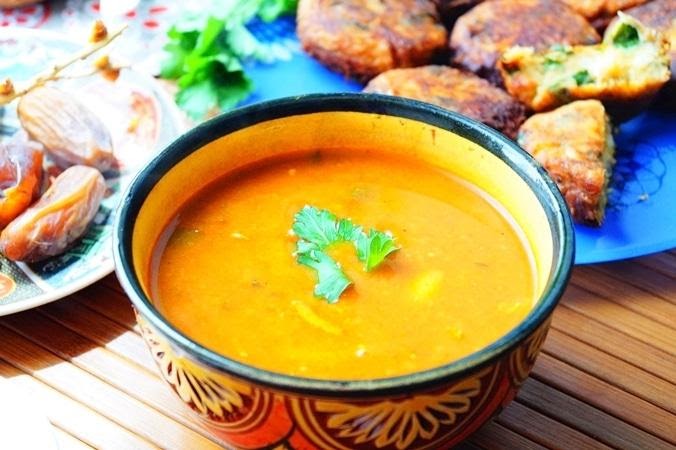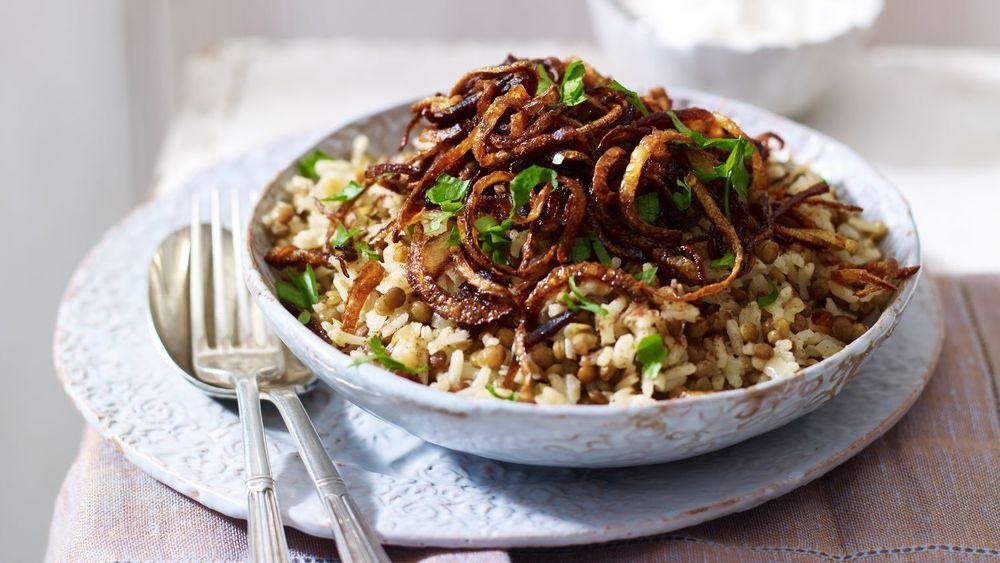 1 avocado
Milk
Sugar or agave syrup
You need one avocado, milk, and sugar (or replace sugar with agave syrup for a healthier version)
Step by Step Instructions: Drink
Step 1
Peel the avocado, take the core out of it and slice each half in 4 parts. You will get 8 parts.
Step 2
Take the glass in which you will drink later and fill it till 3/4 of the glass twice. Put the amount of milk that you just poured in a container.
Step 3
Add 1 tablespoon of sugar or 1 tablespoon of agave syrup.
Step 4
Blend all of it and put it in the fridge while you prepare the rest of your iftar.
2 onions
2 fennels
1 potato
1 branch of celery
half bunch of parsley
half bunch of coriander
1 tablespoon of

tomato concentrate

2 teaspoons of ginger

A bit of salt, pepper, and nutmeg
My advice: The soup preparation takes 10 minutes. But the cooking takes 40 minutes on low heat. Once you leave your soup alone, start making your main and side dishes during that time. You will finish all of your preparations at the right moment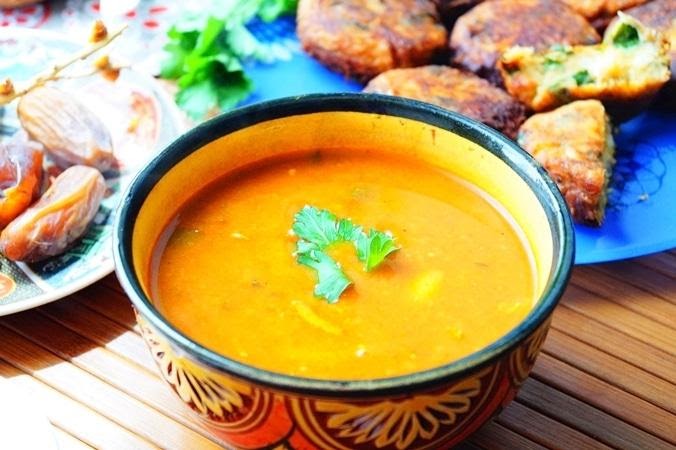 Step by Step Instructions: Soup
Step 1
Peel and slice in thin pieces your onions, potato, and fennels.
Step 2
Take your cooking pot and put a drizzle of oil in it. Add your vegetables and incorporate them together.
Step 3
Slice in thin pieces your celery, parley, and coriander to add them to the cooking pot without forgetting to add the ginger!
Step 4
Now fill the cooking pot with 1.5L of water (or 1L if you want it to be more concentrated), cover it, and let it cook on low heat during at least 40 minutes.
Step 5
Once it's cooked, you have two choices: blend it or simply serve it with the vegetable  parts.
150 gr of rice
150 gr of lentils
2 onions
1 teaspoon of turmeric
1 teaspoon of cumin
1 teaspoon of cinnamon
1 teaspoon of garlic powder
1 drizzle of olive oil

A bit of salt and pepper

1 nature yogurt
My advice: start by heating the oven for the side dish before you begin with the main dish preparation 😀
Once you get to step 4, think of starting to prepare your spring rolls to put them in the oven. It will take less than 20 minutes. Optimize your time! 😀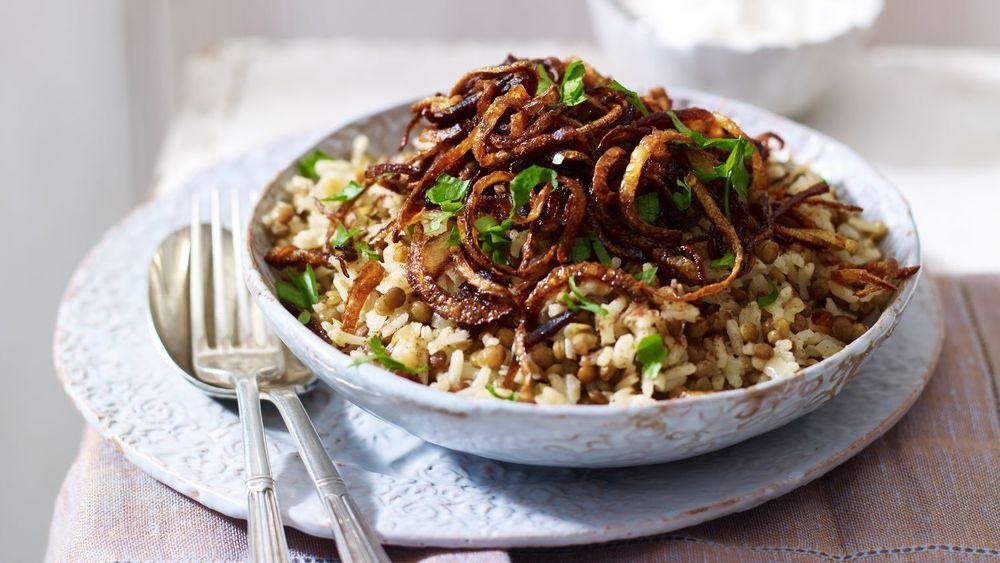 Step by Step Instructions: Main Dish
Step 1
Cook the 150 gr lentils for 20 minutes in boiled water after washing them.
Step 2
Put a drizzle of oil in a stove and add all the spices (turmeric, cumin, cinnamon). Mix them with the oil while it's not too hot.
Step 3
Add the rice after washing it in the hot oil that's filled with spices and mix it well.
Step 4
Fill up the stove in which you are cooking your rice with water until it covers the top of the rice that you scattered with equivalence. Add a bit of salt and pepper and let it cook for 15 minutes on low heat.
Step 5
Now that 20 minutes have passed and your lentils are cooked, drain them and add them to your rice in the stove. Normally, most of your rice water must have been absorbed. Mix the rice and lentils well together. Put your stove aside and let it cool down.
Step 6
Slice your onions in the form of rings. Take a new stove, put some sunflower oil in it, and once it gets hot, put your onion rings in the oil to fry them.
Step 7
Once your rings get brown, drain them.
Step 8
Take one yoghurt and add your gingger.
Step 9
Add half of the fried onions to the rice-lentils mix and blend them well together.
Step 10
Now you can serve the mixed rice on a plate. Add some of the prepared yogurt and onions on it. If you would like, you can also squeeze a little lemon.
Side Dish: Spring rolls of spinach
6 brick sheets
2 to 4 bunch of spinach
4 tablespoons of feta or fresh cheese (better with herbs)

Salt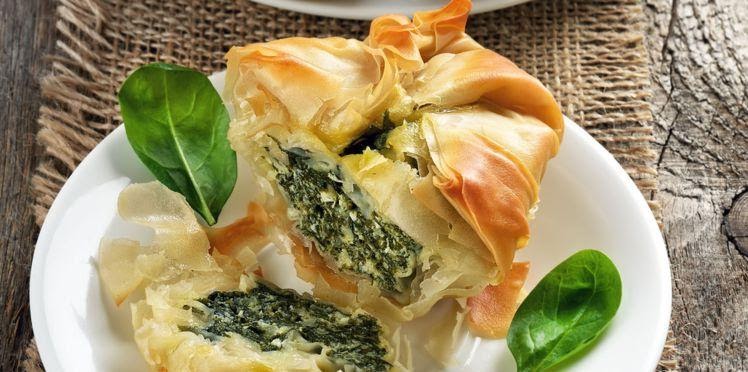 Step by Step Instructions: Side Dish
Step 1
Boil about 0.5L of water and put your spinach and 2 teaspoons of salt in it. Let it cook for five minutes.
Step 2
Once the spinach is cooked, dry it out and incorporate your cheese in it.
Step 3
Take the brick sheet and make a spring roll with the spinach-cheese mix.
Step 4
Put all of that in the oven for approximately 15 minutes. Once your rolls start to golden, know that they are ready !
Step 5
Now get back to your mujaddara's step 5 😉